Specialty Areas

The Unico System is the dominant choice for centrally heating and air conditioning homes with no pre-existing ductwork. Unico is fast becoming the number one choice of specifying professionals in high end custom home applications. Once a Professional understands The Unico System Rules Of Installation, applications are only limited by your imagination.
Custom & New Construction
Historic
The flexibility and efficient installation of The Unico System make it a perfect fit for new construction applications as well as custom-built homes.
No matter when your home was built or what the physical configurations are, you can install The Unico System for high performance heating and cooling comfort.
Log Homes
Retrofit & Remodeling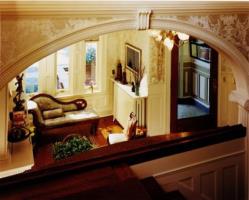 There have been some very effective and innovative uses of The Unico System in Log Homes. Because so much emphasis on log homes is placed on the aesthetics inherent in the use of the exposed wood, designers, builders, and homeowners are pleased with the system's flexibility and unobtrusiveness.
Crafted to weave through and around existing construction, this flexibility makes The Unico System the perfect solution for retrofit applications.
The Unichiller RC Outdoor Heating & Cooling Unit Benefits
Heats as well as cools

Allows multiple Air Handlers (Zones)

Unlimited Remote Location

No Refrigerant in Conditioned Space

Can be Banked with Multiple Chiller Units

Highly Efficient