All Energy Kinetics' heating systems are designed for use with conventional heat and hot water systems for homes, buildings, pools, spas, snow melt systems and more. Our proven 30 year boilers outlast and outperform cast iron, modulating condensing, and combi boilers.
Energy Kinetics manufactures a variety of high efficiency Residential Oil Boilers and Gas Boilers, as well as Commercial Oil and Gas Boilers, for all your heating and hot water needs.
System 2000, 90+ Resolute™ and Accel CS™ Product Overview
Now you can upgrade your existing water heater and boiler, furnace or heat pump to a single high efficiency system engineered to deliver high performance and exceptional fuel efficiency and economy. System 2000, 90+ Resolute, and Accel CS combine heat and hot water with a single high efficiency appliance to maximize efficiency in all seasons, with the additional benefits of virtually unlimited hot water and whisper quiet operation.
---
Science Behind System 2000 Saving up to 40% or More
Extraordinary efficiency is found in three central areas that are seamlessly integrated for peak performance:
1. Display Energy Manager
Hybrid Energy Recovery® Cycle makes sure that no heat is left wasted in the boiler and helps save fuel dollars. This cycle, combined with the low mass spiral boiler design, means high mass idle losses are essentially eliminated.
Better efficiency and performance than "outdoor reset" systems.
Matches energy usage to exact requirements of your home or building.
Read more about the Display Energy Manager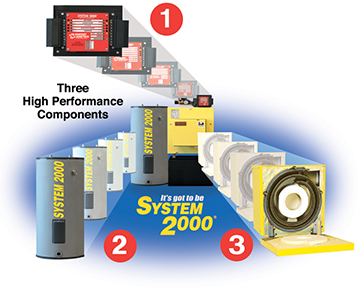 2. High Performance Domestic Hot Water System
Heavily insulated storage tank provides a ready supply of hot water.
Advanced technology stainless steel heat exchanger captures full boiler output for domestic hot water – recognized worldwide for most effective and efficient heat transfer.
Integrated design works seamlessly with the Digital Energy Manager to provide energy recovery and maximum efficiency.
3. Unique, Patented Spiral Boiler Design
Low Mass design heats quickly and recovers energy at the end of the heating and hot water cycles, eliminating idle losses found in all other boilers. In other words, this unique boiler only runs when you need it.
No pins, baffles, or "micro passages" to foul and reduce efficiency.
Specially formulated steel boiler is a gasketless one-piece construction designed to last the life of your home or building.
Outside combustion air connection – eliminates drafts and doesn't steal heated air from your home.