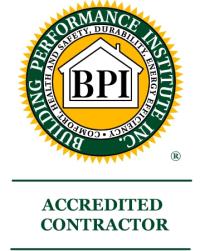 BUILDING PERFORMANCE INSTITUTE INC.
"The Building Performance Institute, Inc. (BPI) is a recognized global leader, supporting the development of a highly professional building performance industry through individual and organizational credentialing and a rigorous quality assurance program."
- quoted from the BPI web site

is proud to have accreditation in four BPI areas:
Air Conditioning and Heat Pump Professional

Building Analyst Professional

Envelope Professional

Heating Professional
This means that the professional technicians at D.Silvestri Sons have completed rigorous training in home performance evaluation focusing on a house-as-a-system concept. They have passed a competency and base knowledge test as well as a field exam where they demonstrate and apply that knowledge.
The house-as-a-system concept includes heating, ventilation and air conditioning equipment and the building envelope or outer shell: the foundations, walls, roof and all their parts like windows and doors. This concept assures that your indoor air quality and comfort, room temperatures, energy efficiency, and overall health, safety, and comfort are taken into consideration.
For further information about BPI, click here to visit their web site.