Breathe Easier with Duct Cleaning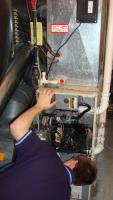 Dirt, mold, bugs, mites, and other "stuff" are all living in your duct system. We can get rid of it all with our Total Source Removal cleaning process. You will be able to see for yourself all of the dirt and debris that we remove from your duct system. Abatement Technologies high-performance air duct cleaning equipment and specialty duct cleaning tools physically remove dirt, debris and other contaminants from commercial and residential ductwork systems. These exceptionally portable HEPA-filtered air duct cleaning vacuums are designed to clean HVAC air duct systems faster and more efficiently.
HEPA-AIRE® Portable Power Vacuums
HEPA-AIRE Portable Power Vacuums
from Abatement Technologies place the duct system under vacuum, or negative pressure, to collect debris and contaminates from the ducts. These powerful units provide three stages of filtration with a 99.97% HEPA final filter.
AIRE-SWEEP® Agitation Devices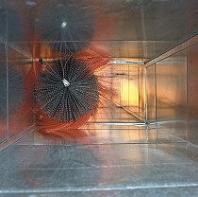 Abatement Technologies Agitation Devices dislodge dirt and debris from inside all types of duct surfaces including duct board, lined duct, flex duct, metal duct and dryer vents. These unique tools are designed to save time and money, and to improve cleaning quality.