New Law Concerning R-22 Refrigerant May Affect
Your Air Conditioning Costs and Equipment Decisions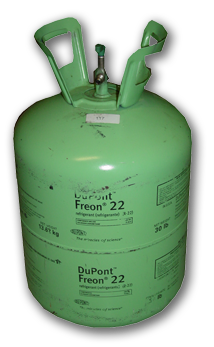 This page is designed to inform homeowners about a change in U.S. Law affecting R-22, a refrigerant commonly used in air conditioning systems. Because R-22 has been classified as being ozone-depleting, the Environmental Protection Agency has joined with other countries to phase out its use in order to protect the earth's ozone layer. As the scheduled phase-out progresses, the refrigerant supply is shrinking and its cost increasing.
If you currently have a system that uses R-22, the information on this page will help answer questions you may have and guide you in decision making regarding your system.
When will R-22 stop being available?
The new law affects only the new production of R-22 which is being stepped down more each year until eliminated effective December 31, 2019. EPA-certified reclaimers can recycle used R-22, returning it to a purity equivalent to new R-22. Beginning January 1, 2020, only reclaimed R-22 will be available for sale. The supply of reclaimed R-22 will decline continuously due to older systems leaking refrigerant to the atmosphere. The diminishing supply and remaining demand for R-22 is expected to escalate its cost.
Is R-22 affecting my maintenance and repair costs?
Yes. If you have a system that uses R-22, even if it is newer, it is aging. As systems get older, they typically vibrate more, causing joints to weaken and refrigerant gas to escape from what is meant to be a closed system. This loss of refrigerant is why maintenance and repair often requires recharging (adding more refrigerant) to the system. The increasing cost of R-22, where needed, is reflected in your maintenance and service fees.
Can I change to a different refrigerant?
No, not without changing your equipment. Systems that were manufactured to use R-22 refrigerant can only use R-22, although some can be retrofitted to use alternative refrigerants. Since 2010, manufacturers of air conditioning equipment stopped making systems that rely on R-22. Newer systems most frequently use R-410A, a blend of refrigerants that does not contain ozone-depleting hydro-chlorofluorocarbons (HCFCs). Beginning in 2015, R-410A is the required industry standard.
Should I change my system?
When it comes to your heating or cooling system, the decision to invest in new equipment is normally driven by either the failure of existing equipment (and subsequent repair vs. replace cost evaluation) or the increasing costs to operate it. When it comes to air conditioning systems requiring R-22, it's no different. If your system is newer, it may be more cost-effective to maintain it. If it is older, installing a more energy-efficient system that uses R-410A may help you save money on both fronts. We can help advise you of available options based on your structure and needs.
If you would like to learn more about your specific system and options, please give us a call at the number at the top of our site.
R-22 is often referred to by a brand name such as Freon®. R-410A is often referred to by a brand name such as Puron®.
---
© 2015 Online-Access