Economy Wins, Environment Loses? Survey Finds Consumers Now Would Rather Make Their Homes Prettier than Energy-Efficient.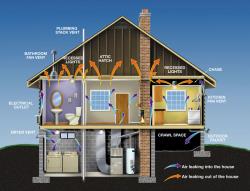 At the Height of the Recession, Americans Coveted Energy-Efficient Windows; Now They`re Back to Craving Granite Countertops and Hardwood Floors KNOXVILLE, Tenn.--(Business Wire)-- A new national survey released today finds Americans once again prefer aesthetic home improvements - a refinished kitchen or bathroom - over money-saving improvements, such as energy-efficient windows or a high-efficiency furnace.
The survey, the fifth annual Energy Pulse survey conducted by Shelton Group, found that consumers are reverting to their old priorities as the recession wanes - perhaps at the expense of the environment.
"Energy efficiency is back to playing second fiddle, competing with more visible and exciting home improvement projects," said Suzanne Shelton, whose firm conducted the study. "Anyone selling energy-efficient products must either focus heavily on the aesthetic or comfort aspects of their products or play up their environmental benefits in a big way."
The survey, which polled 504 Americans by telephone in September, asked consumers: "Assuming you were suddenly given $10,000 to make home improvements, which two of the following would you choose?"
The top answers were:
Refinish the kitchen or bathroom (37 percent)
Replace carpet or add hardwood or tile (33 percent)
Replace windows (31 percent)
Replace HVAC/furnace (23 percent)
Last year`s top answers were:
Replace windows (35 percent)
Replace HVAC/furnace (27 percent)
Remodel kitchen or bathroom (26 percent)
Replace carpet or add hardwood or tile (25 percent)
Among the survey`s other findings:
* Consumers are willing to watch their energy bills go up more than 70 percent, on average, before feeling forced to make energy-efficient home improvements. Respondents said their bills would need to go up an average of $129 a month to make them undertake renovations.
"We call this phenomenon the `Apathy Gap,` the price people are willing to pay to do nothing," Shelton said. "Here consumers are willing to waste more than $1,500 a year, or more than $4 a day, before they`ll take action. For that same amount, a homeowner could install insulation or purchase one or two new ENERGY STAR appliances to start seeing immediate savings."
* There is a lot of pent-up demand for solar power. The survey asked,"How likely would you be to buy a solar electricity system for your home, knowing that a mid-size system that would provide around 63 percent of the average household's electricity, costs $35,000 to $40,000 that could be offset by a $2,000 federal tax incentive along with additional rebates in many states."
* 28 percent said they would be likely or very likely to buy such a system.
* Fewer than 1 percent reported they already had such a system.
"This indicates an enormous potential market for solar," Shelton said.
"Consumers have been waiting for solar to become more accessible and more affordable. Now, with prices projected to fall even further, and with new federal tax incentive greater than they've ever been - up to 30 percent of the cost of the system for qualifying taxpayers -- solar power will be on the rise."
* Consumers have good intentions - but not very good follow-through. Surveys over the past five years, including this year, show consistently large discrepancies between intentions and actions. Every year, for example, around 20 percent or more consumers say they`re planning to get an energy audit, yet the percentage of U.S. homeowners who've actually gotten one has languished in the 10-15 percent range.
"That`s why we now refer to home energy audits as the `colonoscopy` of energy efficiency," Shelton said. "Everyone knows they should get one, but too few actually do."
About Shelton Group
Shelton Group, founded in 1991 by Suzanne Shelton, is an advertising agency located in Knoxville, Tennessee, focused exclusively on motivating mainstream consumers to make sustainable choices. The agency conducts four proprietary consumer opinion studies annually - Eco Pulse, Energy Pulse, Utility Pulse and Green Living Pulse.
Learn more at www.sheltongroupinc.com for Shelton Group
Mark Pankowski, 301-260-9250, markpankowski@yahoo.com or Mittie Rooney, 301-229-1618, mrooney@axcomgroup.com
Copyright Business Wire 2009