Photovoltaics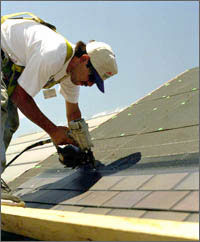 The U.S. Department of Energy works to provide clean, reliable, affordable solar electricity for the nation through its research programs in photovoltaic (PV) energy systems. The following pages explain the "how's" and "why's" of PV. Whether you are a student, builder, consumer, engineer, or researcher, there is something here for you.
Photovoltaic technology makes use of the abundant energy in the sun, and it has little impact on our environment. Photovoltaics can be used in a wide range of products, from small consumer items to large commercial solar electric systems.
Our goal is to ensure that photovoltaic energy systems make an important contribution to the energy needs of our nation and the world.
Click here to find out how you, the consumer, can use PV and other solar energy technologies.
For more complete information about PV Technologies go to the US Department of Energy - Energy Efficiency and Renewable Energy web site.
---
Source: U.S. Department of Energy - Energy Efficiency and Renewable Energy